Christmas Memorial Service - 1st December 2023
Rushcliffe Oaks - 1/11/2023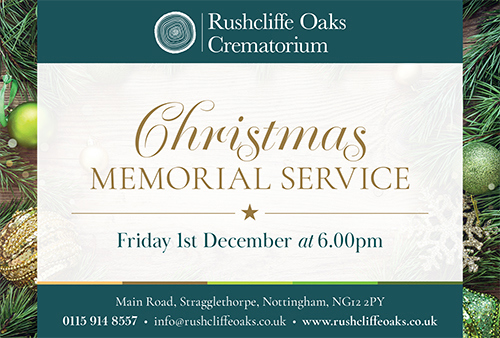 Rushcliffe Oaks will be holding our first Christmas Memorial Service on the evening of Friday 1st December 2023, from 6.00 pm.
All are welcome to join us at this free event to remember and celebrate your loved ones at this poignant time of year. The service will be led by independent celebrant, Jon Harris, and include an opportunity to hang a star on our memorial Christmas Tree with a personal message for that special someone. There will also be a slideshow of loved ones' photographs, along with their names, and a raffle to raise funds for the Ash Lea School in Cotgrave.
Join us after the service for seasonal refreshments.
The event will be ticketed to allow us to cater for everyone attending. To reserve your place please call us on 0115 914 8557 or email info@rushcliffeoaks.co.uk